ANNUAL CELEBRATION OF SMALL BUSINESS
ANNUAL CELEBRATION OF SMALL BUSINESS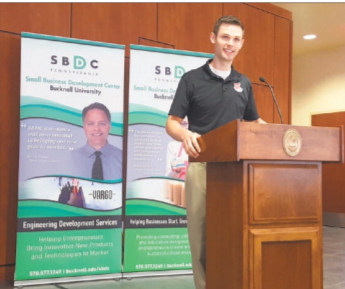 By Eric Scicchitano
escicchitano@dailyitem.com
LEWISBURG - The Great Recession set in on the United States in 2008 when the e-commerce firm, Spices Inc., went live — operating out of a single bedroom in the home of Greg and Penny Patterson.
Customers found a taste for the family-owned business' spices, rubs and seasonings, allowing Spices Inc. to grow into a warehouse in Northumberland County that's six times larger than its first away-from-home facility in Bloomsburg. Payroll expanded beyond the five-member family and the firm now employs 23 workers full-time.
Bucknell University Small Business Development Center awarded Spices Inc. its Small Business of the Year Award for 2019.
"Throughout many years of working for other people, we knew we wanted to work for ourselves," Penny Patterson said during an awards ceremony Friday at Bucknell's Elaine Langone Center.
The SBDC's annual Celebration of Small Business saw Chris Pinchak, a franchisee of Heaven's Best Carpet Cleaning, named Young Entrepreneur of the Year. Jonathan Weiss, owner of Oswalds Mill Audio, New Tripoli and New York, received the Product Innovation Award while state Rep. Kurt Masser, R-107, received the Charles H. Coder Entrepreneurial Leadership Award, in part, for his role in helping launch the Anthracite Outdoor Adventure Area in Northumberland County.
SBDC aided Spices Inc. in human resource management and employee development.
"We were in a place where we needed their resources," Patterson said.
The firm opts against automation when it comes to filling its orders, choosing instead to blend and fill its spices by hand, plus adding hand-written notes to customers. Spices Inc. increased its staff by 50 percent in the first year after moving to Elysburg in 2016.
Pinchak entered SBDC's Lewisburg office in 2014 with next to nothing outside of an idea. He looked at a wall where photos of successful entrepreneurs hung and asked what it would take to have his photo join the collection, said Dennis Hummer, business consultant, SBDC.
"I had no experience, no money, no customers and a tremendous amount of debt," Pinchak said during his brief but emotional remarks to an audience of about 100 people including an estimated 30 small business owners.
SBDC helped Pinchak secure a startup loan and helped him keep watch on his profit and loss margin. In three years, that loan was repaid. SBDC staff advised Pinchak on outsourcing some human resources functions and on hiring practices. He developed a staff for a growing commercial cleaning division and plans an expansion of his payroll.
"Now, I'm proud to say that according to Google and a lot of you in this room, I am among the top cleaners in the area," Pinchak said.
Steven Stumbris, director, SBDC, said Pinchak's photo would be added to the wall this fall.
The Bucknell SBDC assisted 30 entrepreneurs to begin new businesses in 2018.
That same year, its 140-plus long-term clients received more than $10 million in capital investment and experienced growth in sales by about $20 million, according to Stumbris.
The SBDC offers no-cost consulting services to entrepreneurs and small businesses and hosts the statewide Pennsylvania Small Business Development Center network's Engineering Development Services.
Dilip Shah, engineering consultant project manager, Bucknell SBDC, spoke to the engineering services received by small businesses like RunLites and Gilson Snow — the latter teaming with Bucknell this year towards creating a line of wakeboards to its offerings of snowboards and skis. University professors guide select students in hands-on engineering work to help startups design and modify their products.
These efforts must lead to the creation of "high-paying" jobs in Pennsylvania, Shah said.
"I hire the best students I can find and engage the faculty," Shah said before adding a bit of sarcasm that drew a laugh from the crowd. "Then, miracles happen."
(c) 2019 The Daily Item